Today I thought I might give you a little example of the programming for the clients at Elevate Total Fitness. To date we've had some great success improving body composition, improving strength levels and improving overall athleticism. Obviously the programming does differ from client to client but below I will out line the basic template.
Before we go too far, ask yourself
Do you need to change the suggested exercise selections due to injury/restriction?
Do you have specific programming needs?
How well do you recover? What's your ability to tolerate training loads?
For the sake of this post let's assume
You have 2 years of strength training experience and a basic understanding of the Olympic lifts.
You have no previous injury concerns or programming considerations.
You like to get shit done!
Step One – Address Your Strength Levels
Nine times out of ten the general population just lift to way light. The old stigma of light weights for high reps has gone way way to far. As we all should know by now max strength is foundational to all other elements of athleticism (acceleration, speed, agility) (1). Speed is in fact a direct result of strength, which is why athletes need to get strong to produce enough force to get fast.
In general, max strength is best developed with 1-5 repetitions using loads above 85% of 1RM, and a combination of concentric and eccentric muscle actions, 3-6 sets per session, 3-6 exercises per session, also allowing for longer rest periods.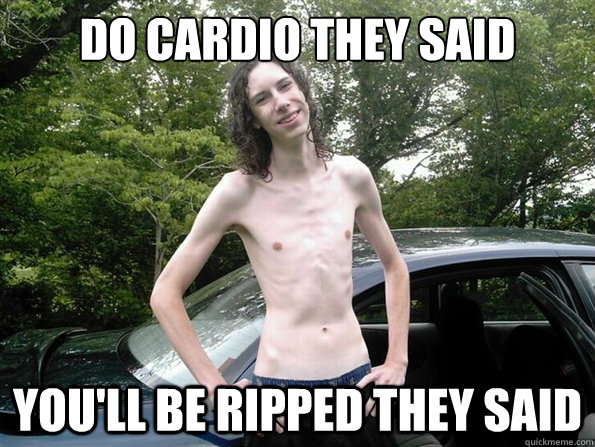 Step Two – Cut Your Cardio
Running sucks… And if you like running, you suck to. Long distance running is just about useless for every sport, the old adage of running long to get fit, then running short later to get fast, is flawed. Excessive long distance running in combination with the wrong strength training program can actually decrease an athlete's speed over time. If you looking to get fat and less athletic, pick up cross county running.
A more suitable conditioning component could be made up of shuttle runs, sprints and hill sprints, weighted carries, prowler or sled work, tire flipping and battling rope variations. There are 100's if not 1000's of variations that could be used.
Step Three – Auto Regulate
Auto-regulation is one of the most important factors in long-term training success, especially in terms of keeping yourself fit and healthy over the long haul. Auto regulation gives your training some flexibility to accommodate your body's daily physiology (2).
Now, this doesn't mean you can piss about just because you don't feel like training, but It would be stupid to head to training  and stick to your program 100%. Don't be the "I must always do my program no matter what" guy. You must be able to adapt your program to your daily physiology, know when to dig down and give that extra effort or when to ease up and come back another day.
Step Four – Putting It Together
Select Your Exercises
As you will see below there are 4 different groups of exercises. You will choose one exercise from column A1, one exercise from column A2 and one upper body and one lower body exercise from columns B and C. You will self select your conditioning component but I will list some examples below.
A1
Box Jump Squat Throw Depth Jump – Ht     Broad Jump Overhead Slam Depth Jump – Dst
A2
Power Clean Hang Clean Clean Off Blocks     Power Snatch Hang Snatch Snatch Off Blocks
B1, B2
Box Squat Front/Back Squat Traditional D/L Trap Bar D/L   Bench Press Decline Press Push Press Push Jerk
C1, C2
Bulgr'n Split Squat Reverse Lunge Hip Thrust 1-Leg Hip Thrust   Ring Push-Up/Dip  1-Arm DB Press Ring Row/Chin-Up 1-Arm DB Row  
Weekly Reps & Sets
Week 1.
A's – 4 x 3 B's – 3 x 5 C's – 3 x 12  
Week 2.
A's – 5 x 3 B's – 3 x 4 C's – 3 x 10
Week 3.
A's – 6 x 3 B's – 3 x 3 C's – 4 x 10
Week 4.
A's – 3 x 3 B's – 3 x 4 C's – 2 x 15
How To Move Weight
You'll start the lifting sequence using sub-maximal loads (Under 70% 1RM), and slowly increase the weight with every set until 85% 1RM has been reached. At this point you'll begin your official work set. It should look something like below.
60% x 3 Repetitions (Warm-up set)
70% x 3 Repetitions (Warm-up set)
80% x 3 Repetitions (Warm-up set)
Prescribed Sets & Reps (1st official work set)
Prescribed Sets & Reps (2nd official work set)
Prescribed Sets & Reps (3rd official work set)
Every time you lift a bar, you should focus on moving as fast and as explosive as possible. Obviously when the weight gets heavier the bar won't move as fast, but it's the intent to accelerate that's important.
How To Warm-Up
I'm guessing everybody knows how to warm-up by now.  Start with some myofascial release (Foam roller, stick, ball) followed by a dynamic warm up to increase range of motion and activate dormant muscles. For mobility, it's important to focus on exercises that open up the hips and thoracic spine. For any chronically tight areas, add some static stretching to finish.
Sample Workouts
Workout One
A1) Box Jump A2) Hang Clean   B1) Front/Back Squat B2) Bench Press   C1) Bulgr'n Split Squat C2) Ring Push-Up/Dip  
Conditioning
16 Minutes Of:
Every Odd Minute – 60m Sprint

Every Even Minute – 30m Prowler Sprint
Workout Two
A1) Broad Jump A2) Hang Snatch   B1) Trap Bar Deadlift B2) Push Press   C1) 1-Leg Hip Thrust C2) Ring Row/Chin-Up  
Conditioning
On The Minute For 16 Minutes:
3 Tire Flips

5 Burpees
7 Kettlebell Swings
Wrap-Up
If you'd like a personalized program designed specifically for you, be sure to hit the "TRAIN WITH ME" in the top right hand corner and I can get sorted on your path to success.